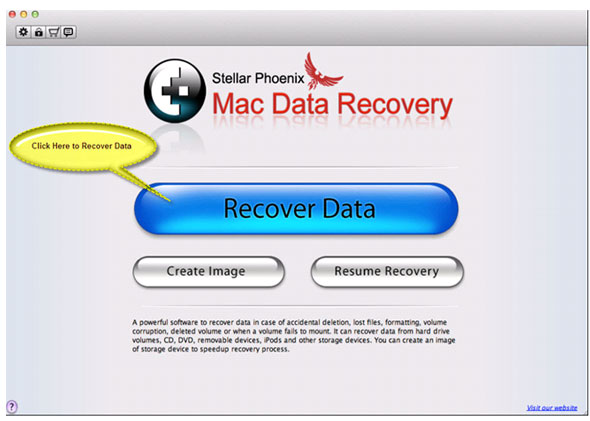 Stellar Phoenix Mac Data Recovery is a professional choice to undelete files on Mac that are lost to a minor software glitch, a disk crash, or a similar disaster. You can fall back to this data recovery tool when you have emptied out the Trash folder and your last line of defense against data loss fails to do the needful. The software can save you long hours of work and lot of stress in an attempt to bring your data back to life. This professional Mac recovery software performs scan of your storage media to offer high degree of reliability when recovering your files.
Stellar Phoenix Mac Data Recovery is just the right solution for your requirements as the program is specialized at recovering different types of files from a variety of supported media. The software can recover your irreplaceable files, documents, music, videos, and pictures from Mac hard drives/volumes, optical discs, and removable media. One of the major highlights in the recent version is its ability to perform recovery from NTFS-formatted Windows Boot Camp partition. The tool also supports flash drives formatted with FAT, NTFS, or ExFAT. Further, it empowers you to recover entire lost or deleted volumes on Mac hard drives.
This tool gives pre-recovery preview of files using built-in Quick Look. With this useful option, you can have a closer look at your files before recovery and determine which ones are recoverable. The tool has a knack of recovering files with their original names for all recently deleted ones. It displays all files along with their original names in the preview window to make it easy to prioritize data for final recovery.
Stellar Phoenix Mac Data Recovery offers a range of free additional utilities (such as imaging, cloning) that sets it apart from other tools in the competition. The software comes in two separate versions: 'Demo' and 'Full'. Demo version gives you a free hands-on experience with the tool, while the Full version enables you to perform successful recovery.
Software Name: Stellar Phoenix Mac Data Recovery 6.0

Price: $99.00

Categories: Unclassified Application

Platform: Mac OS X,Mac Other