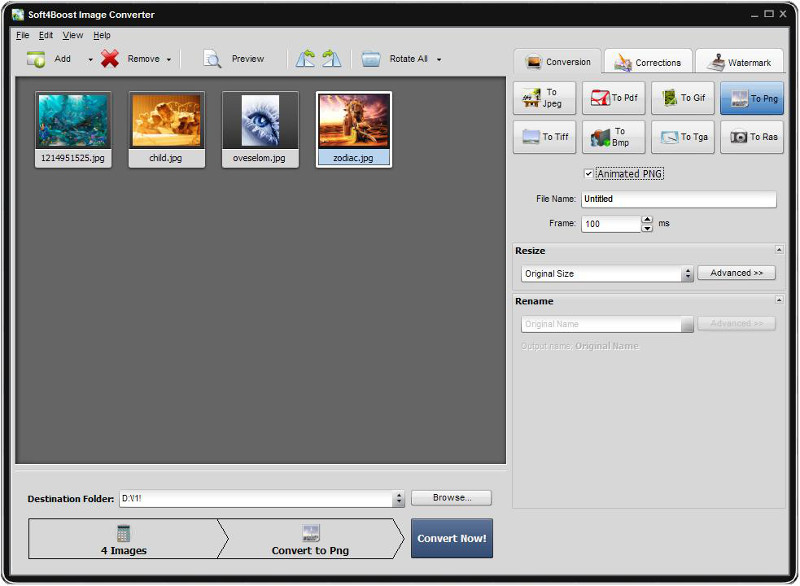 Convert your pictures, improve their quality and look, apply various effects, copyright converted images. It is easy and fast with Soft4Boost Image Converter. Convert tons of images to all key formats in one go! Work with such formats as JPEG, RAW, JPEG2000, APNG, GIF, TIFF, ITHMB, SFW, WB1, PDD, etc. Convert and save your images in PDF-format. Apply auto-correction settings to improve images parameters such as brightness and contrast. Select between various effects - make your pictures look like black-and-white pics, or old faded photographs. Resize pictures and prepare them for future slideshows or fit them to popular printing formats. Select a logo and apply it to converted pictures as your personal watermark.

Soft4Boost Image Converter is a part of SorentioApps.com package. Register once at sorentioapps.com and work with all tools from the SorentioApps.com package. Subscribe for $24.95/year or $39.95/lifetime. More Details...
EasyBilling invoicing software allows you to create professional sales documents, Quotations, Invoices, Receipts, Delivery Note, Credit Note and Debit Note. With just a few clicks to choose the customers and products, EasyBilling will help you on layout and finish the rest. There are many features which simplify your document preparation process, includes Automatic document numbering, Customer and Item info can be loaded from pre-defined list, total amount, tax/VAT, balance will be calculated automatically, allows photo attachments in Quotation and Invoice, stamp document with URGENT, CONFIDENTIAL, REVISED, etc, and add your signature image into the document. The documents can be exported into PDF/HTML/Excel and they are ready to be sent to customers by email or sent to printer. User can easily customize EasyBilling to fit company's need. The document header, numbering and labels are all customizable. Option boxes feature allows user specify the field, like signature box, is display or not. You can stamp your document with Urgent, Revised, Confidential or any you want. It allows you to generate the document in PDF file and print freely. EasyBilling provides easy-to-use customer list and item list. User can pre-define the customer list and item list and customer/item information can be easily loaded into document. The report function allows user to collect information by month, by customer or globally. User can have a comprehensive sales and payment report. And raw data can be exported into excel format for statistical analysis. More Details...